You've heard it and you've seen it…Fashionistas, designers, photographers and attendees flocking the streets to attend shows and meet up in New York, Paris, Milan and now Los Angeles…even talks about Dubai too but what is this madness anyways?

Let's tackle Fashion Week the Smart is Sexy way, let's not only uncover what it is but let's get down to the smarts behind this sexy industry we call fashion.
Who better to break it down than someone from the inside – Since I model in Los Angeles Fashion Week and cover media, I'll take you with me into this mysterious madness, seemingly glamorous world of endless runway shows, copious street style photos and celebrity clad front row sightings!
Fashion Week is meant to initiate the fashion for the upcoming Fall and Spring season. This 'week' is a way for designers to establish the trends and labels that are to come and also serves as a sneak peek for fashion press, retail buyers, and others of influence in the fashion community. It gives an opportunity for media coverage, like magazines to identify the season's forthcoming trends so they know what to photograph and write about as well as give buyers for boutiques and high end department stores a chance to assess where their funds for the season will be best spent. For stylists shopping for red carpet events and people of influence, where their outfits matter because they are widely copied they can start planning their looks and shopping lists after the shows. Fashion week is very similar in a way to Film Festivals, emerging talents have a chance to be noticed and gives an opportunity to generate buzz for what's to come and be expected in the Fashion Business. After participating in a few Fashion Weeks it gives you a new perspective when you flip through a magazine or read a Fashion article, you have an idea in the pre-planning and arrangement that goes into those glossy pages 6 months prior when the seed was planted at these Fashion Weeks.
Understanding Fashion Week means understanding that fashion is a way to communicate AND a way to do business. It essentially is how an open creative ecology works. The impact ranges from contributing to the local economy, to incentivizing innovation, and to find ways to self-express. Designers spend hours creating designs that weave narratives on the runway. Each outfit and collection is meant to make the person wearing the outfit feel more beautiful, walk a little more confidently and project whatever image they intend to the world. True beauty comes from the inside. We all know that. And each year designers set out on a mission to accomplish the goal of making a business out of this recipe.
What are the rules? There are none.
How is it done? No one knows.
Who are the judges? We are.
Do they succeed? To be determined…. Each and every Fashion Week.
What are the ingredients to this recipe of bringing out the beauty by instilling a little confidence with what we wear business … is it the color? Cut? Length? Fabric? Is it all of them together? Who da heeeeck knows! But every season they try again and again to create the perfect recipe that inspires whoever is wearing the clothing to feel beautiful. To light the fire of confidence from the inside out….without using words.
But we do know, when someone feels beautiful –they look it no matter what. It's undeniable— it could be a suit, a dress or a headpiece that does the trick but something deep down flourishes. Designers use this opportunity of artistic expression to leave a lasting impact on the runway to their admirers. What you see on the runway are generally more dramatic versions of what end up in the stores. You might notice a stunning dress is completely see through on the runway but once it hits stores it has a modest slip underneath. A coat with extra bright accessories say, some lights and over the top feathers will have slightly adjusted itself to be able to fit when you try to drive your car. This is meant to leave an impression. Most often it is the art of the innovation, the execution that makes the whole experience so sexy.
The process of innovating for every Fashion Week, either small or large takes an element of creative genius. Innovation is smart. And there is sexiness in invention. The execution of that innovation onto the runway, as we watch it take form is unforgivingly sexy. So as you see, behind all the Fashion Week glitz, the biggest trend being innovation and execution is very Smart is Sexy.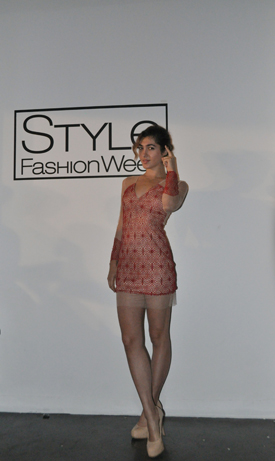 Breaking Stereotypes.
Smart is Sexy.
Smart is Sexy at Style Fashion Week LA
Special thank you to the Alcazark Photography and the team at Style Fashion Week.
Xoxoo Beijo!
SMS